Game
6 interesting details in the new trailer of Star Wars Jedi: Survivor
The latest story trailer for Respawn's Star Wars Jedi: Survivorr dropped some new tidbits that got me excited to play Respawn's upcoming sequel to its awesome 2019 soul-like action game, Star Wars Jedi: Fallen Command.
Star Wars Jedi: Survivorlaunches later this month, set five years after the events of the first game, reduced orders. As before, survivor will follow Cal Kestis and his crew of adorable misfits as they run faster, smarter, and outlast the Empire. Kestis is a Jedi, which makes him a top priority threat to the Empire. And surviving an encounter with Darth Vader and his Jedi-hunting Inquisitors in the final game, Kestis and his ragtag team will now have a more surprising villain to deal with: another Jedi.
Resurrection / EA / Lucasfilm
Out today, survivor new story introduction It's not very long, but it's packed with interesting details and loads of information. Here are six cool things we discovered in the trailer that we think you might be interested in!
Cal will visit the planet Coruscant . city
Remember that the big city world from Star Wars prequel? same look seen in Andor, also. Well, looks like Cal is going to visit Coruscant in survivor. Remember that at this point in Star Wars In the timeline, Coruscant was the literal capital of the Empire. It's the planet the Emperor hangs out on when he's not doing evil to the Sith lord, so not the safest place for a Jedi to visit. Certainly a very important task.
One of the Bedlam Raiders is a Gen'dai
Obviously, this is something Respawn confirmed earlier this year, but considering we get a better look at the Rayvis raider in this trailer, I think it's worth a shout out. That big alien in armor? They are a Bedlam Raider called Rayvis, and he is a Gen'dai. What's that? It's a very hard-to-kill alien species made up of regenerating, worm-like appendages. Bounty Hunter Durgefrom cartoons Clone War small series, is a member of this species. If Cal has to fight Rayvis, expect a tough boss fight.
G/O Media can receive commission
Merrin and Greez return (and get a new look)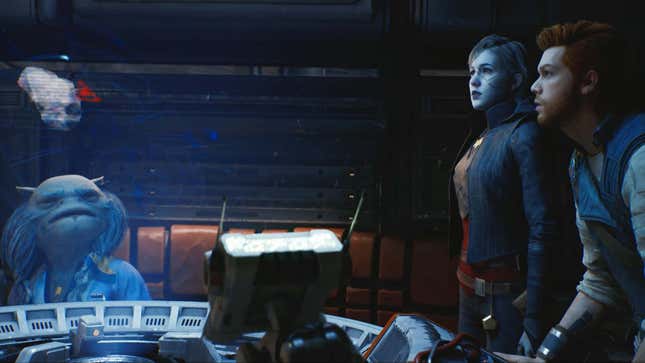 While I'm assuming Cal's lovable rogue team will show up in the new game, it's great to finally see them in this story trailer. Five years have passed, Nightsister Merrin and salt-loving pilot Greez looks different. Personally, I like their new look. Merrin in particular looks great. I like her modern take as an emotional space witch. Oh and if you're wondering what happened to Greez's arm, then…you might want to read Star Wars Jedi: The Battle Scara series of novels later reduced orders but before that survivor. (Or just look it up on Wookieepedia.)
The great villain could be a fallen Jedi from the past
Okay, so if you don't know anything about The Age of the High Republic of Star Warshere's a very succinct summary: This is a new era of the franchise created a few years ago that exists mostly in books and comics and tells the story of the Jedi at their peak about 200 years or so before the events seen in The Phantom Menace.
Now, in this trailer, we get a better look at the possible Jedi seen for the first time survivor intro video. Back then he was wandering in some kind of stagnant chamber. In this new trailer, he's walking around in the High Republic's full Jedi robes and he looks angry when Cal and the other Jedi let the galaxy fall to the Empire. I hope he'll be willing to do anything to save the old system, even if it means teaming up with raiders and turning to the dark side of the Force.
Where's Cal's Jedi Master, Cere?
In this trailer, we only get a brief shot of Cere, the Jedi master who helped Cal reconnect with the Force in the previous game. She shows off a new look, and seems a bit cooler. This is related to recent War scars book, in which she focuses on reclaiming the Jedi's past relics in hopes of passing on its tradition and history to future generations. Maybe she won't be as important in this adventure as she was last time, but it's great to see her here because she's so cool and I don't want her to be completely eliminated.
Wait a second, is that Moraband?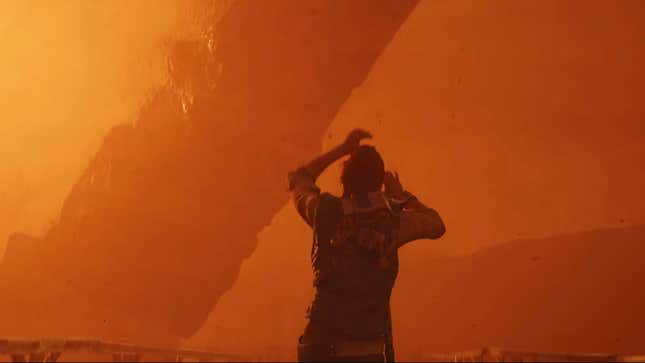 At one point in the trailer, we catch a glimpse of Cal walking through a red dust storm over a seemingly barren world. Now, this could be a whole new planet. It could be Genosis from the prequel. It could be a planet taken out of a comic book that I have never read. But it could also be Moraband, an ancient planet with deep ties to the evil Sith. It appears in the manga and Clone War and it looks a lot like what was glimpsed in the trailer.
Considering the final game, let's explore Dathomir, another planet with dark connections to the more exotic parts of the universe. Star Wars, I can see Moraband fulfilling the same role. And if I were an ancient Jedi looking to reclaim the galaxy, I might visit some of the Sith planets for more power. Just say!
---
And those are the coolest and most interesting things I picked up from the new trailer. We don't have much time to wait to play Star Wars Jedi: Survivor. The game will launch on April 28 on PS5, Xbox Series X/S, and PC.