News
Amir Khan: Boxer says he was robbed at gunpoint in London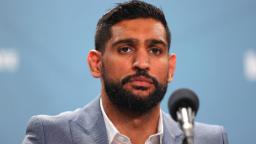 Khan wrote on Twitter: "I just got shot down by my watch at gunpoint in East London, Leyton."
"I crossed the street with Faryal, luckily she was a few steps behind me. Two men ran up to me, he asked for my watch and had a gun pointed at my face. The main thing was both We're both safe."
The Metropolitan Police said in a statement sent to CNN that they were called shortly after 9pm on Monday to Leyton in east London.
"A man in his 30s is believed to have been approached by two men and threatened with a gun before stealing his watch and fleeing," the statement read.
"There were no reports of any shots being fired or any injuries. Police responded and conducted a search of the area. At this very early stage, there were no arrests.
"An investigation has begun and police are following several investigations."
Khan's last rematch was in February when he was beaten by Kell Brook through one minute of stoppage time in Manchester.
Now 35 years old, Khan won the Olympic silver medal for Great Britain in 2004 at the age of 17 and, as a professional athlete, was crowned world champion after winning the lightweight championship. WBA 2009.