Entertainment
Andrew Garfield Receives A Surprise Text From The Cast Of 'Cobra Kai'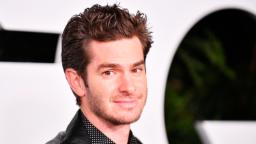 In a video posted Wednesday, the "Tick, Tick… Boom" star received a surprise text from the cast of the Netflix series, including Ralph Macchio and William Zabka, giving him a moment. Completely engraved with fans.
All efforts seem to have been combined after Garfield in an earlier interview expressed his love for the series, calling it "an obsession."
The video shows both the cast's message and Garfield's smiling reaction throughout.
"I love you guys," he told the screen at one point. "Miyagi-Makes Life."
His joy continued to the end, as he told the interviewer, "They know I exist… It's Christmas. My body feels like Christmas."
"Tick, Tick… Boom" is streaming now.
"Cobra Kai" returns for Season 4 on December 31.