News
'It's all empty promises': Palestinians feel betrayed by US, warn there's only so much they can bear

Ramallah, West Bank
CNN
—

Abu A'asem brews every pot of his specialty Arabic coffee, despite the pouring rain. His stand in the center of Ramallah is always busy, no matter the weather, but his future as a Palestinian is as bleak as the skies above.
"I am 40 years old and I keep seeing the same thing. Many leaders have come and gone and the situation remains the same," he said.
Although US Secretary of State Antony Blinken was meeting with Palestinian Authority President Mahmoud Abbas just a few kilometers away on Tuesday, A'asem said he was certain that the Palestinians were not Washington's top priority.
"His visit was only for Israel," he said. "It's just good manners when passing by because he's in the neighborhood."
Blinken's visit comes in a month that has seen the number of Palestinians killed by Israeli security forces reach an eight-year high. Ten of those deaths occurred because of one Israeli forces raid in Jenin on Thursday. Tensions quickly escalated and the next day, a Palestinian man was shot and kill seven Israelites outside a synagogue.
Friday night's gun attack took place in the Israeli settlement of Neve Yaakov, an area Israel considers a neighborhood of Jerusalem but is considered by most of the international community to be illegally occupied land. France.
Blinken managed to bring the temperature down, even before he arrived in Israel, while reinforcing the unwavering U.S. commitment to Israel's security. He also said the US, specifically the Biden administration, remained committed to the two-state solution.
Speaking with Abbas in Ramallah, Blinken said it was first necessary to "take steps to de-escalate, prevent violence, reduce tensions and try to lay the groundwork for more positive actions in the future. "
But that, he says, is "not enough" by itself. "It is also important to continue to strive not only to reduce violence but also to ensure that ultimately Israelis and Palestinians enjoy equal rights, equal opportunities. What we are seeing from the Palestinians is a narrowing horizon of hope, not an expanding one, and we also believe that needs to change."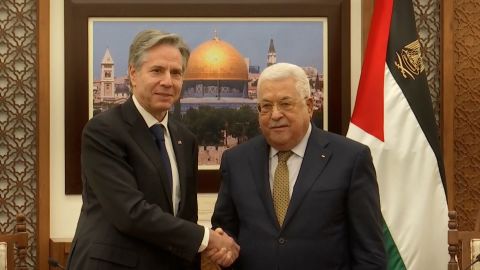 However, A'asem did not place his trust in the top US diplomat.
He can offer us something here and there but all are empty promises," he said. "Since day one of the profession, it's been promises and things like that and they've been broken and empty promises."
At the end of the road, the smell of cashews and almonds roasted at Rifa'at Yousuf's shop dispels the cold winter air. Nor is he optimistic.
Yousuf, 44, said of US policy towards the Palestinians: "Things are getting worse and worse.
"(Blinken's) visit is unwelcome to us Palestinians," he added, accusing the foreign minister of facilitating the Israeli occupation and supporting what he said were violent acts by Israel. Israel in the occupied West Bank. "We, as the Palestinian people, we oppose any visit from anyone pro-Israel in this way."
Israeli Prime Minister Benajmin Netanyahu announced this week that Israel will "fortify" the settlements in response to gun attacks in Jerusalem, a position Blinken warned about on Tuesday.
But speaking to CNN's Jake Tapper on Tuesday, Mr. Netanyahu said people could be "hanging" in peace talks with the Palestinians, saying he chose a different approach.
"When the Arab-Israeli conflict is effectively ended, I think we will go back to the Palestinians and achieve a workable peace with the Palestinians," he said.
Asked about the concessions Israel would make to the Palestinian territories, Mr. Netanyahu replied: "Well, I'm certainly ready for them to have all the rights they need to govern themselves. But no single power can threaten (us) and this means that Israel has the ultimate responsibility for security."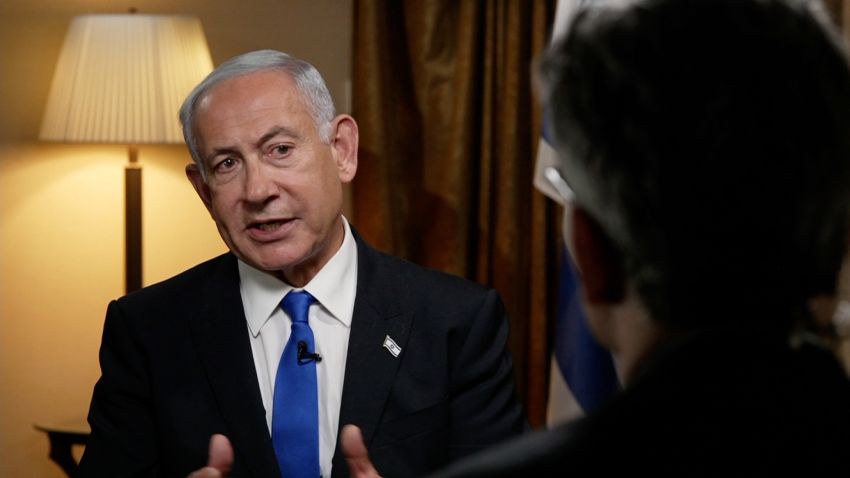 Netanyahu on peace process: 'We will have to live together'
Disillusionment, despair and feelings of abandonment are hard to swallow for most people in Ramallah, but it is especially difficult for young Palestinians, who see no future for their people and themselves. their bodies.
Nihad Omar, 18, said: "We are very sad. "Every day we see someone become a martyr or a prisoner, it's the same cycle and the numbers keep increasing, not decreasing."
Analysts on both sides say the Israeli government's promises that it will respond to violence with an "iron fist", coupled with the desperation of many in Gaza and the West Bank, have transformed the region. into a barrel of gunpowder with the detonator getting shorter and shorter. . Recalling that feeling, Omar said there is only so much pressure that Palestinians can and are willing to endure.
"The occupation surrounds us from all over and does not allow the Palestinian people to breathe," he said.
Hanan Ashwari, a Palestinian rights advocate and former member of the Executive Committee of the Palestine Liberation Organization, said that the frustrations toward the United States and Israel that those CNN spoke to felt were well-founded and spread widely across Ramallah and the West Bank.
"(Blinken) wants to integrate Israel in the region, which means, you know, putting the Palestinians aside, rewarding Israel and normalizing the occupation," Ashwari said. "Then they talked about supporting a two-state solution, they patted each other on the shoulder and went home.
"That is very ironic, because they stand aside and they allow Israel to destroy the two-state solution by destroying the Palestinian state, stealing land, killing people, destroying homes and terrorizing Palestinians through through settlers and the army," she added.
Disillusionment, Ashwari said, is not only with the United States, but also with the current Palestinian leadership.
"We had a leadership that was not only good at rhetoric but also held positions of power and had failed in many ways to provide the people with even their own policies," she explains. . "I think it's time to hold elections and have a new leadership chosen by people who are enjoying the legitimacy of the election."
Most of us who spoke in Ramallah agreed.
"The Palestinian leadership tries to appease the Palestinian people and bring good, but they are disabled and unable to do so," said Omar.
"Those around [current Palestinian Authority President] Mahmoud Abbas unfortunately cooperates with the Israelis more than he does," Yousuf said. "I wish we had someone with the same spirit as Yasser Arafat."
But some still credit Abbas and his leadership.
Cafe owner A'asem said: "The Palestinian leadership tries to bring solutions to the Palestinian people, but they face many challenges.
They argue that the challenges to a more prosperous future for Palestinians, including the establishment of a Palestinian state, are barriers deliberately posed by Israeli politicians. For Ashwari, Israel's policies toward the Palestinians, now enacted by the most right-wing government in the country's history, are slowly destroying the viability of a two-state solution.
"Israel is ensuring that there is no viable sovereign Palestinian state by expanding settlements, taking more land," Ashwari said. "This is unacceptable. The more settlements you build, the less land you have for the Palestinians."
On the streets of Ramallah, Palestinians are acutely aware of that fact.
"We were hoping for a two-state solution but what we see on the horizon and what we see in reality nothing suggests a two-state solution. [is viable]," Yousuf said. "Palestinians have no power, opinion or choice, a two-state solution is just words, we long for a two-state solution, but this is becoming a dream, a dream. unrealistic dreams."
"There will be no two-state solution," agreed Omar. "With the occupiers of Israel, never."
As he brewed another pot of coffee, A'asem musedly realized that his dream of a Palestinian state couldn't get any closer.
"Perhaps the two states (solutions) have become a pipe dream," he admitted, sounding heartbroken at the admission.
But that sense of defeat was only for a moment before returning to fire.
"We Palestinians, we are sentimental people, we are generous and we will be generous to the Jews when they come as guests," he said. "But with an occupier there will never be peace."