Every item on this page was chosen by an ELLE editor. We may earn commission on some of the items you choose to buy.
SKINCARE | HAIR | MAKEUP | BODY | PEOPLE, PLACES, & PURPOSE
In April, the ELLE editors virtually met to review hundreds of product submissions for this year's Green Beauty Stars. When ELLE first launched the Green Beauty Stars Awards in 2006, we defined green beauty as products powered by naturally-derived actives. Today, knowledge, as well as the category and the term itself, has broadened. "Clean" products are now a baseline for many consumers. Green products are the next level. For us today, green products have formulas with derived natural and botanical ingredients, as well as efforts to find sustainable solutions in production. We narrowed down all of the entries to create a list of our favorite green products – those which check the boxes of having sustainability efforts, recyclable packaging, and meeting the EWG definition of "clean." This year's winners reflect this expansion: Some are innovative products, and others are initiatives aimed at protecting our planet, but all are doing their very best to ensure that their products are friendly to our bodies and the planet.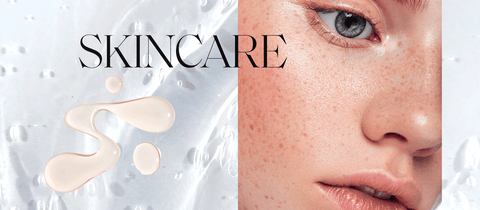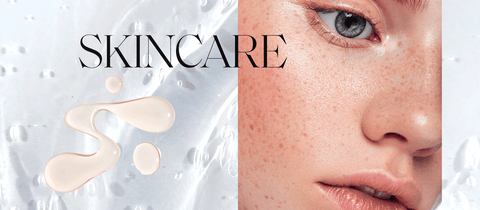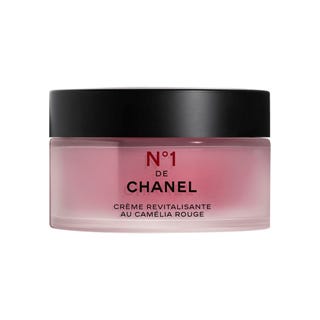 N°1 de Chanel Revitalizing Cream
The entire N°1 de Chanel collection—which includes skin care, makeup, and a fragrance mist— pays homage to Coco Chanel's favorite flower, the camellia. The Revitalizing Cream is housed in a refillable, recyclable glass jar and has a biobased lid partially made from camellia seed husks. Plus, the formula is made of 97% naturally-derived ingredients that include Red Camellia Extract and Red Camellia Oil grown on the brand's own farm.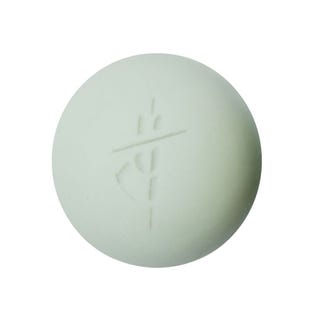 Face Stone
There's no water used in the creation of this completely solid, plastic-free moisturizer. Instead, nine nourishing butters and oils create a super-luxe daily moisturizer that can also be used for a heavenly face massage. It also comes in a bamboo container, so you'd only need to purchase refills in the future.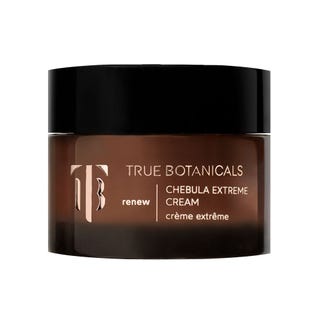 Chebula Extreme Cream
Regenerative farming, a process that focuses on rehabilitating the soil after a harvest season to replenish carbon and help reverse climate change, is the secret to the super-potent calendula oil found in the brand's first-ever cream moisturizer. It's all about soothing and protecting the skin: chebula fights signs of aging and reinforces the skin barrier; low and high weight hyaluronic acid hydrate; and Rosehip and Raspberry Seed Oils plump.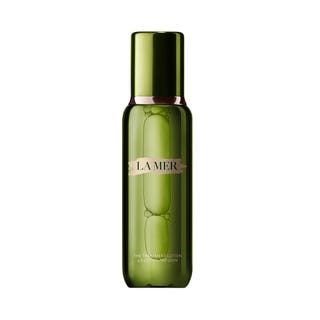 The Treatment Lotion
La Mer's parent company, Estée Lauder, developed a green chemistry evaluation system for developing new products, so that the most sustainable and effective options possible can be chosen. The first product to be created under this new guideline is The Treatment Lotion, which is made of 91% natural origin ingredients. The green thought is applied to packaging, too: the recyclable glass bottle is made of 20% post-consumer materials.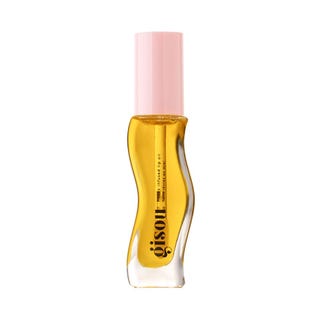 Honey Infused Lip Oil
Honey is an obsession in influencer and entrepreneur Negin Mirsalehi's family—they have been beekeeping for six generations—and her brand Gisou incorporates sustainably-sourced honey from the family's colonies. It comes together with hyaluronic acid for this glossy lip oil, which uses honey's natural abilities to hydrate and heal.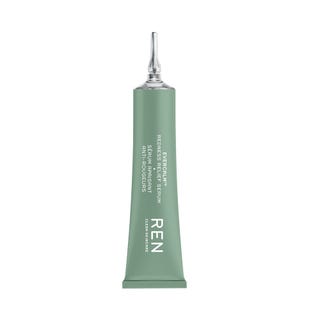 Aluminum Sample
REN
The ultimate way to be wasteful when it comes to a skincare routine is throwing away a product after having a bad reaction to it. To ensure that doesn't happen with their products, Ren is offering samples of their active-spiked Ren Skincare Glow and Protect Serum. Each resealable aluminum tube comes with more than a week's worth of the product for you to try, so you'll understand how your skin reacts before diving into a full-sized bottle.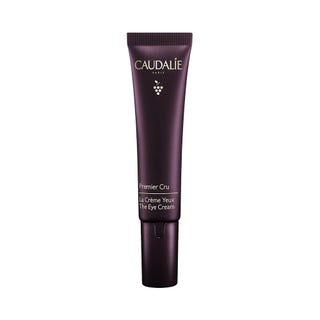 Premier Cru Dark Circle Correcting Eye Cream
French brand Caudalíe collaborated with Harvard Medical School for more than a decade to create the brightening and anti-aging TET8 technology, now found in the three-piece Premier collection. The eye cream, made of 97% natural ingredients, both instantly smooths and brightens when the pearl-spiked formula is smoothed on skin with the attached cryo massaging tip. Long term, TET8 (a blend of resveratrol and magnolia) fights the most common signs of aging.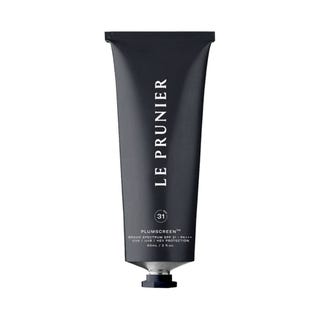 Plumscreen
Upcycled plum kernels—typically considered waste—are pressed into a rich oil and whipped together with non-nano zinc oxide for this mineral sun protection. The hydrating formula comes in 100% PCR and aluminum packaging that's easy to recycle once you're finished with the product.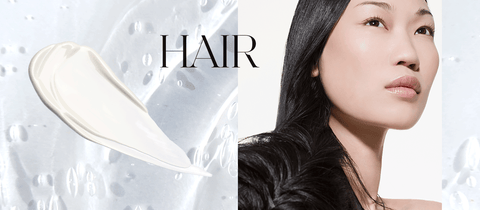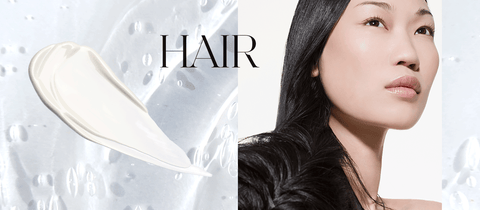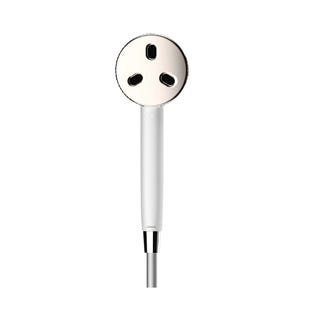 L'Oréal Water Saver
This hair care system in U.S. salons was developed with Swiss environmental innovation company Gjosa to create a more water-efficient hair rinse. It fractionates each water droplet into dozens of tiny microdroplets to increase the surface area of the stream coming out of your faucet. The result: 80 percent reduction in water consumption. An at-home version is promised for next year.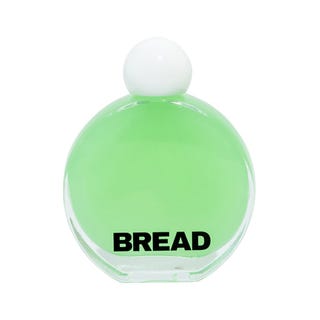 Scalp-Serum
Bread Beauty Supply
$28.00
The plant-based exfoliants (PHA and and AHAs) in this leave-on scalp serum come in a perfume-inspired glass bottle. Meant to be functional and easily transitionable to a second life, it comes with two lids: one to refill more product or a screw-on lid that transforms it into a TSA-approved vessel perfect for your favorite body oil.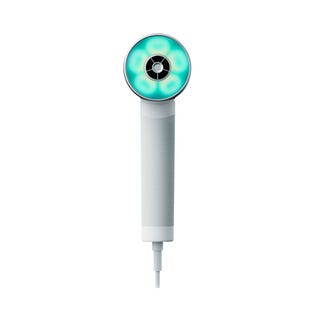 Halo Hair Dryer
This high-tech blow dryer using 60 percent less energy than a traditional heat-coiled dryer. It instantly gauges the temperature of your bathroom and your hair, then calibrates its use of visible light and infrared waves to dry hair faster. Choosing this dryer instead of a standard one is equal to removing 60 pounds of CO2 from the atmosphere or planting a single tree.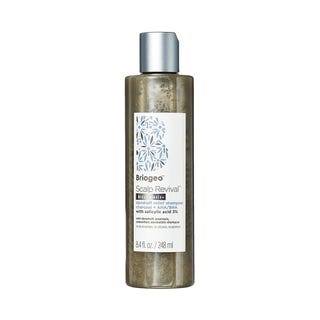 Scalp Revival™ MegaStrength+ Dandruff Relief Shampoo
Formulated with the powerful combination of salicylic and lactic acid (instead of the commonly used and rougher dandruff ingredient pyrithione zinc), this lathery shampoo relieves an itchy scalp and flakiness without over-drying. It gets its gray color from binchotan charcoal, the purest form of charcoal, and is 92% naturally derived. And like all of Briogeo's products, the packaging is recyclable and recycled.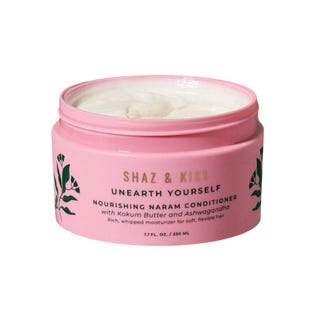 Nourishing Naram Conditioner
The key ingredients in this hair treatment—Kokum Butter, Ashwagandha, and sesame, apricot kernel, and amla oils—are originally found in India. To keep the product (and brand's) footprint small, everything is ethically sourced from its original environment, which doubles to support small farming villages and ensure that sustainable harvesting practices are in mind. The brand, started by two Indian sisters, is also plastic neutral.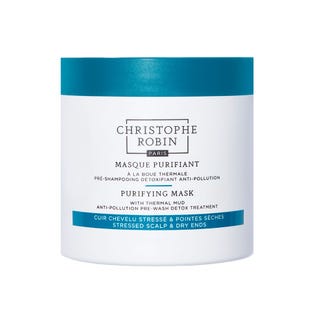 Purifying Mask with Thermal Mud
There's been a slew of reformulations of cult-classic products to greener formulas. The new version of this mousse-like mask was re-made with Distearoylethyl Dimonium Chloride, a 100% plant-based alternative to traditional conditioning agents. It's biodegradable too, after it washes down the drain.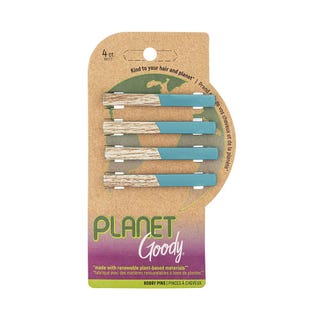 Bobby Pins
We don't even want to think about where all of our missing bobby pins have gone. You won't want to lose these either, but Goody's latest innovation, the Planet Goody collection, takes on hair accessories like hinge clips, butterfly clips and French pins with an eco-twist. The bobby pins are made of renewable plant materials like bamboo, then lacquered in bold colors with non-toxic dyes.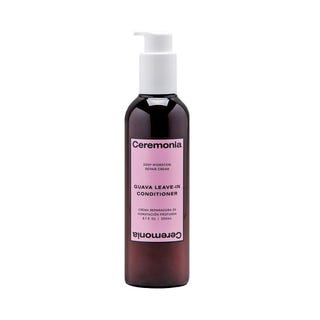 Guava Leave-In Conditioner
Picture a sunny day at the beach, but with nourished, shiny hair. This formula includes guava fruit from Thailand, avocado oil and blue agave from Mexico, and aloe vera from Mexico and is free of silicones, parabens, sulfates, phthalates, artificial colorants. Latinx founder Babba C Rivera's brand also uses bottles made with up to 30% to 100% post-consumer-recycled PET material.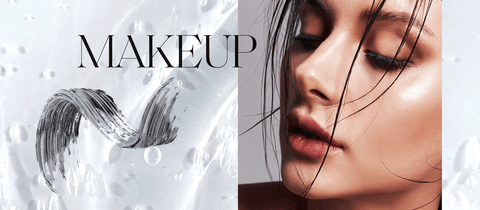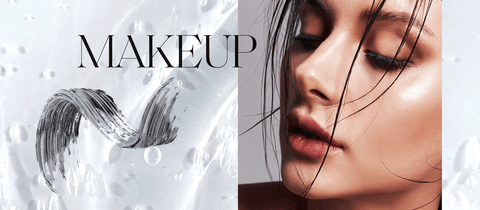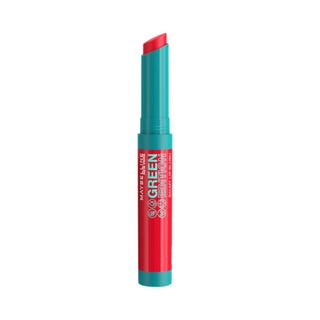 Green Edition
Maybelline New York
$7.98
Maybelline New York's Green Edition range (made up of the Mega Mousse Mascara, Superdrop Tinted Oil, and Balmy Lip Blush) is the first makeup collection to receive the Cradle to Cradle certification, which assesses the full social and environmental impact of each product. The ten Balmy Lip Blush shades are made with vegan ingredients and come in packaging made of 95% plastic, but perform just as vibrantly and smoothly as traditional lip colors.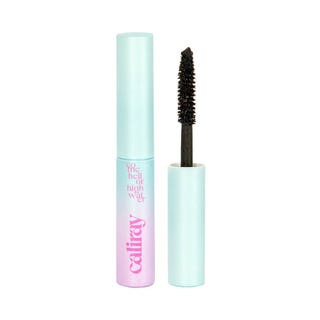 Come Hell or High Water Mascara
Urban Decay founder Wendy Zomer has turned her genius to clean beauty and created this clean tubing (aka lash-wrapping pigment) mascara formula. It comes in pastel ombre packaging, with 100% upcycled plastic pulled from the ocean.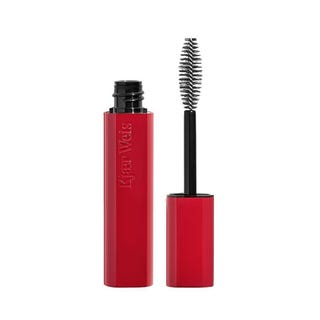 Im-Possible Mascara
Brand founder Kirsten Weis was one of the original pioneers of clean beauty, and took years to develop this mascara. The inky-black formula is Ecocert-approved (a.k.a it's certified organic) and conditions lashes with marula oil and raspberry fruit water. Additionally, the bold red packaging is actually a sleek refillable case.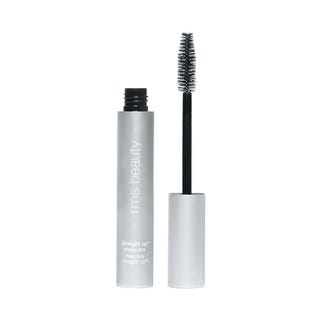 Straight Up Volumizing Peptide Mascara
No petroleum, coal-tar pigments, or fossil fuels were used in the formulation of Straight Up Volumizing Peptide Mascara. Yet it still achieves the dark drama—with 12 hours of curl and lift—because of the patented tri-lock system that "locks" the dimension onto your lashes, that took more than 350 hours in the lab to perfect.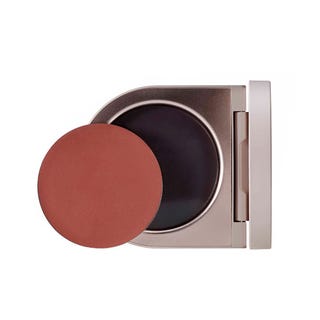 Blush Divine Radiant Lip & Cheek Color
This cream blush checks lots of boxes, including super-glowiness, prettiness, and ease. Your first purchase of the product comes in super minimal packaging, and from there, hitting pan is NBD. Order the refill alone and pop it into the reusable case.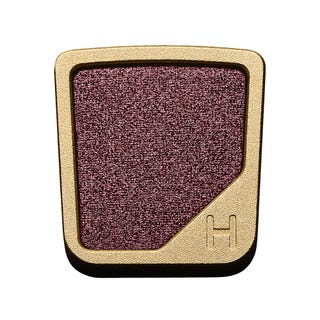 Curator Eyeshadow
With more than 40 vegan eyeshadows to choose from (think matte nudes, shimmering sunsets and peacock metallics) and three differently sized and refillable palettes made of aluminum and PCR plastic, this is a luxe and eco-friendly choose-your-own-beauty-adventure.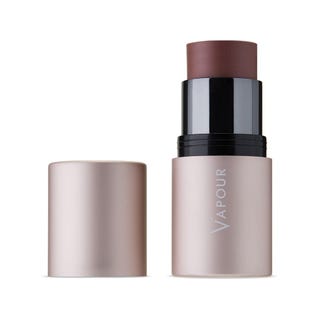 Lux Conditioning Tint
This collection of dewy all-over sticks hit the green and sustainable high points: packaging made of PCR plastic and aluminum, organic formula, waterless, and Leaping Bunny certified. All of Vapour's facilities, including their office, factory, and warehouse in Taos, New Mexico, are entirely solar powered, too.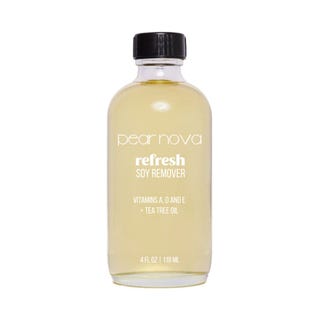 Refresh Soy Remover
Housed in a chic glass jar, this soy-based and acetone-free potion gently (but quickly) takes polish off of nails. It also leaves behind vitamins A, D, and E to nurture the nail bed and cuticle so your skin isn't dry or ashy looking post-mani.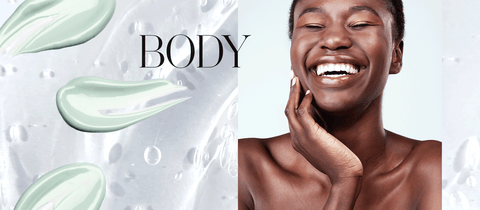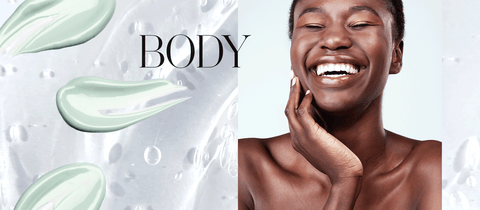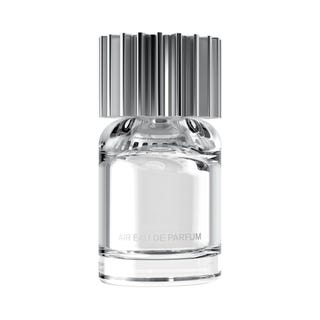 Air Eau de Parfum
Air Company, a New York–based team that transforms carbon dioxide into pure ethanol alcohol, broke into the vodka and hand sanitizer industries, and this year — perfume, too. This is the first fragrance made from the air we breathe (every liter of its ethanol removes a pound of CO2) and smells of orange peel, jasmine, and musk. It's currently available for pre-order.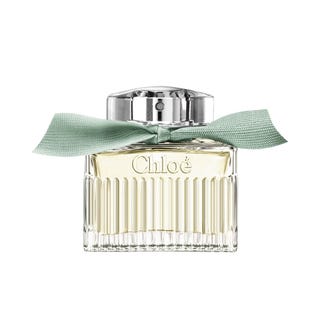 Eau de Parfum Naturelle
Blended under the thoughtful direction of creative director and longtime eco-activist Gabriela Hearst, the woodsy-floral is made from ingredients like Virginian cedar and Moroccan neroli that have been meticulously vetted. The result: a luxury fragrance of 100 percent natural origin.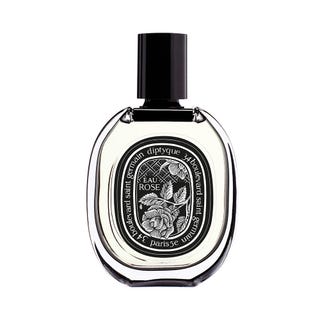 Eau Rose Eau de Parfum
The French perfume house utilized the leftover floral water from steam-distilled damascena roses—a key ingredient in the much-loved Rose Eau de Toilette—and upcycled it into the key note for the Eau Rose Eau de Parfum.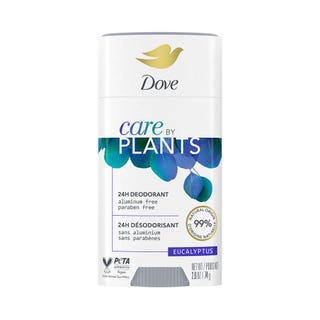 Care by Plants Deodorant
Made of 99% natural-origin ingredients, this aluminum-free deodorant fights odor with active botanicals. The base is a moisturizing vegan wax made from sunflower seeds and rapeseeds, the packaging is made from 96% recycled materials, and the scents (like lemongrass or tea tree) last for 24-hours.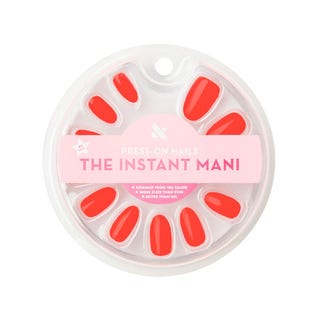 The Instant Mani
Press-on nails sky-rocketed in popularity when the mani-obsessed weren't able to get their nails done during the pandemic. Olive & June joined the many brands releasing trendy options with an environmentally-friendly twist: The Instant Mani is the first press-on nail set made from post-consumer recycled material (94 percent, to be exact). There are 44 different styles, such as sharp black French manis, half-moons with tiny heart details, and solid pastels, and all come with a proprietary glue that is super strong but doesn't damage nails.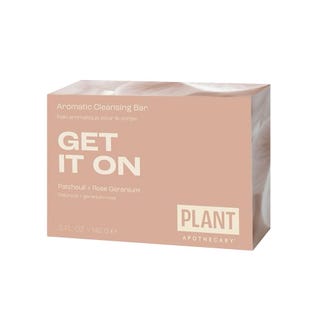 Get It On Aromatic Cleansing Bar
Made in Brooklyn, this collection of (newly reborn) bar soaps all aim to put you in a certain mood: Start Happy, Be Well, Calm Down, or our favorite, Get it On. The brand has partnered with 1% for the Planet and Climate Neutral to offset their footprint, and the only packaging it comes in—a cardboard box—is recyclable.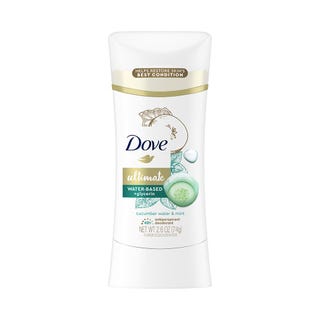 Ultimate Deodorant
The super-smooth glide and hydrating formula in this antiperspirant starts with a water-based formula. From there, glycerin nourishes the skin's barrier, both stopping both irritation that could be caused by hair removal and helping to restore any disruptions in the microbiome. Because don't forget, your underarms are skin, too.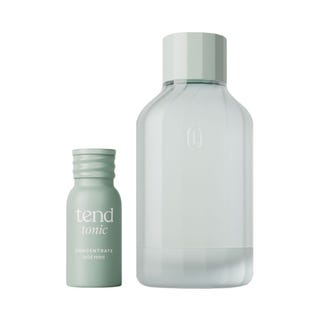 Tonic Mouth Rinse
The frosted glass decanter from Tend would look at home in a stylish 1920s bar, but its contents are made for your bathroom vanity. This mouthwash is alcohol-free, (a.k.a gentle on the mouth's microbiome) and arrives on your doorstep in carbon-friendly concentrate form (fill it with water to rehydrate). It's this DTC dental brand's solution to stopping more than 400 million bottles of mouthwash from ending up in a landfill every year.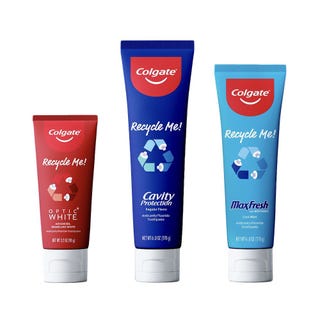 Recyclable Toothpaste Tubes
Colgate
Twenty billion toothpaste tubes were tossed into landfills last year. Colgate is moving the brand's entire selection—starting with bestsellers Optic White Advanced Sparkling White, Cavity Protection, Max Fresh Cool, and Total Whitening—to the first-ever curbside recyclable material. Each updated tube will be splashed with "Recycle me!" and the full collection will be recyclable by 2023.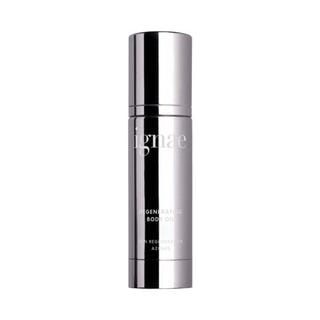 Regenerating Body Oil
The rosehip and bakuchiol found in this super luxe body oil are wild harvested from the Azores using Sustainable Farm Certified practices. But it's the brand's proprietary EPC Factor technology, which harnesses the power of a pure resource and increases its volume 100-fold, that minimizes its footprint on the UNESCO-certified archipelago. All the packaging is also recyclable.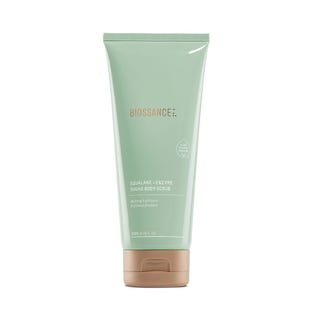 Squalane + Enzyme Sugar Body Scrub
The United States' ban on plastic microbeads sent many beauty brands back to the drawing board when it came to formulating effective, eco-friendly replacements. This body scrub uses naturally-sourced physical and chemical exfoliants—sugar crystals (which melt on contact with water) and pomegranate enzymes—along with the brand's proprietary squalane to give you smooth, hydrated skin.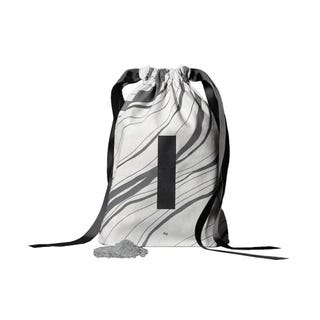 Bamboo Forest Amethyst Ki Bath Soak
This luxurious soak starts with the salt of bamboo—one of the most renewable resources on the plant. The plant's salt is cured at very high temperatures in a South Korean monastery for up to three years, then combined with bamboo sap and an alkaline base to transform it into a warm water product that's both luxurious and a treatment. It doesn't end there. The soak comes in plastic-free packaging (a reusable canvas pouch, paper mesh, and a cardboard shipper carton) and biodegradable paper printed with eco-friendly soy.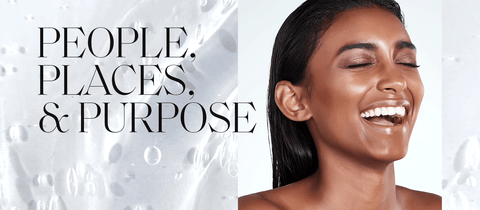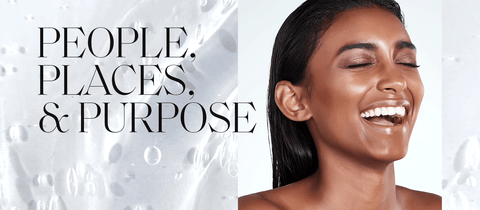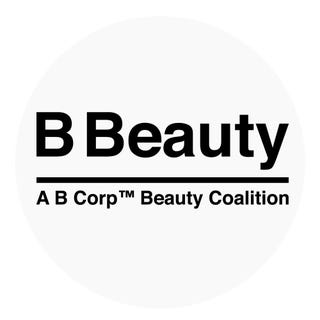 B Beauty
B Corp
The B Corp Beauty Coalition combines the brainpower of 33 brands, including Beautycounter and The Body Shop, with the goal of sharing planet-friendly best practices.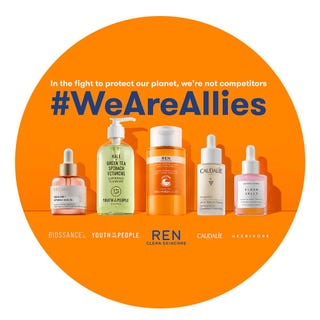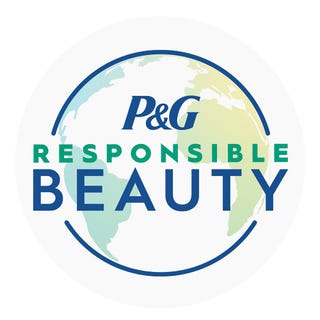 Responsible Beauty
P&G
For the past 40 years, P&G has spent more than $460 million on research to end animal testing, sharing its findings with the beauty industry. Of the 50-plus animal-testing alternatives used today, more than half were developed or co-invented by P&G scientists. Now, as part of P&G's new Responsible Beauty initiative, the company will release its sustainability breakthroughs publicly (its 2020 white paper, Safe Use of Botanicals in Beauty Products, was 10 years in the making). Other brands are following this example, teaming up to share information and assets.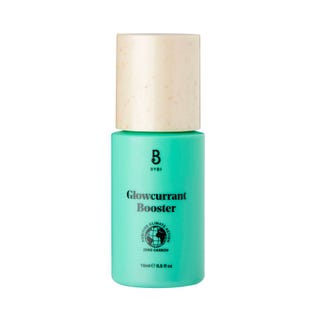 Vivomer
Shellworks
Since the invention of entirely synthetic plastic in 1907, the world has produced an estimated 8.3 billion metric tons of it—and recycled around 9 percent. The rest is largely in landfills, lakes, forests, and seas. Dealing with that pileup is essential, but so is reducing future accumulation. UK-based packaging company Shellworks launched a bioengineered, biodegradable plastic alternative called Vivomer, now found in the cap of products like the BYBI Glowcurrant Booster. Made from fermenting microbes and vegetable pigment, the resin-like material is sturdy until you toss it in your compost bin or trash, and other microbes break it down.
This content is created and maintained by a third party, and imported onto this page to help users provide their email addresses. You may be able to find more information about this and similar content at piano.io
---
Advertisement – Continue Reading Below
---
---
---
---
---
---
---