Game
Five Minutes Of The $50 Red Dead Redemption Port Running On PS5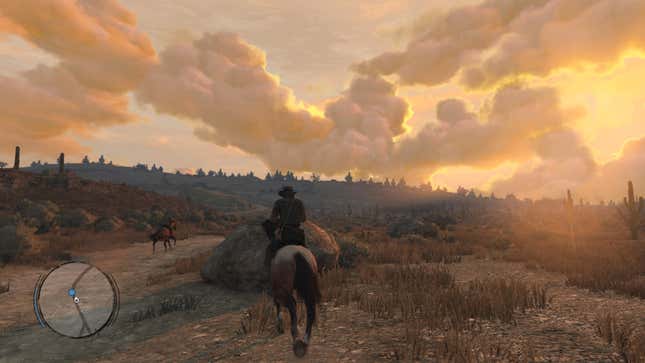 The first thought that came to mind when starting Red Dead Redemption on PlayStation 5 is how well the 13-year old game holds up visually. The second one was that there was still no way in hell I could recommend it to anyone for a "next-gen" price tag of $50. The graphics are clean and crisp, but otherwise it's the same game that's been available for years on Xbox One without the Undead Nightmare DLC for almost half that price.
Thank You, PS Plus, For Making My Backlog Even Bigger
The cinematic scenes and character interactions still draw you in, and the performances remind you why Rockstar Games' open-world Western was a worthy GOTY contender (Super Mario Galaxy 2 and Mass Effect 2 also came out in 2010). It still feels like an old game, especially with the original interface, occasionally clunky action, and less-than-snappy controls. Look out across sprawling prairies or cactus-filled desserts and you'll immediately remember this is a PS3/Xbox 360-era world. Then the sun starts to go down behind the clouds and you remember how special it was at the time and immediately feel pulled back into its drama.
Red Dead Redemption 2 – 5 Minutes of PS5 Gameplay
Red Dead Redemption 2 – 5 Minutes of PS5 Gameplay
I spent a couple of hours with the game on PS5, a clip of which you can see above, and didn't run into any real issues. It's locked to a disappointing 30fps, but keeps a consistent performance outside of some occasional stuttering during cutscenes. According to Digital Foundry's analysis, the PS4 port resolves to "full 4K resolution" and even looks slightly better on PS5 than the backwards compatible version on Xbox Series X/S, especially when it comes to shadows. But the differences are mostly limited to minutiae that few people are likely to notice. "It's the kind of game that doesn't really need a major overhaul to work well on modern systems—but even so this is a very barebones effort," wrote Oliver Mackenzie.
The port would be a home run if not for the $50 head scratcher. It's not the sort of thing I usually like to harp on, and if you have the money to spare, and never played Red Dead Redemption before, and only have a PS4 or PS5, go for it! But for anyone who just wants to revisit the game or is overwhelmed by the surprising bounty of great new games this year, it's likely an instant deal breaker, and nothing during my time playing it convinced me otherwise. Maybe the game will come to PS Plus in a few months, or go on sale during the holiday. For now it's just a pricey trip down memory lane with nothing new to offer.